The Story of Winton Castle's Lockdown Facelift Told by its Owner, Sir Francis Ogilvy
"There's a reason nobody's building castles anymore! Think about them – all turrets and ramparts – even esplanades for your army. Now a battery is to connect your solar panels to, a flagpole for a turbine and a moat for ground source heating," says Sir Francis Ogilvy, owner of owner of the events venue Winton Castle near Edinburgh.
Sir Francis continues: "Were it not for history – the odd skirmish, an English king (called Henry) with eight wives losing out on parental matchmaking and throwing toys out the pram – we would not have the colourful country that attracts international visitors and events venues that provide something that is (with good reason) altogether different from the norm…"
Even so – this does not diminish the fact that you have to be brave or bonkers to want to own a castle. Silver linings are worth looking out for. A venture in hospitality at Winton took a long time to come good, only for a virus to pull that rug from beneath us overnight. Instead, once we found our feet a bit, we embarked on a facelift for our 15th century castle / 17th century palace, not possible in normal times.
Google 'facelift' and you get "What to expect and possible complications". When dealing with a castle that in part pre-dates Mary Queen of Scots, we knew there would be the unexpected. So, we decided to repair some of the chimneys and replace the cement harling with a render that was sympathetic with the stone rather than pull it apart. That is important when dealing with hunks of ornately carved stone 20m up in the air.
We engaged stone masons Scott & Brown for the restoration project and have been delighted with the outcome. We have 13 ft high, carved, twisted chimneys restored that were worse than feared and walls that now sing out for being as good as new with more than 70 tonnes of lime render on them (no misprint!). Bear in mind that every carved stone was manhandled down the scaffold and each replacement – intended to tie in with what was able to be retained – took on average of 30 hours to carve.
The Hazeldean Quarry in Northumberland provided a fantastic match for the old stone. However, carving in reverse mode to the original, seeking to envision multi-dimensions and four hundred years of weathering, means you need a tradesman to match the original kings' master mason in skill as well as a large swear box!
Added to this, the rendering of the outside was all done by hand with a Franco-Scots alliance holding firm on top of the scaffolding through the winter, during a Covid lockdown and with winds even exceeding 50 mph. Three coats of lime render mixed on the ground with some hokey-cokey words that sees steam emerging from the cauldron (literally!) and then hauled up in a bucket and applied with a trowel. Repeat this two more times and then paint it all five times.
Nothing's done in a jiffy on this job, but the end result is a wonder to behold! It involved courses at the Scottish Lime Centre in Fife – the brainchild of a cousin and descendant of Robert the Bruce so centuries of history and influence come round again and again.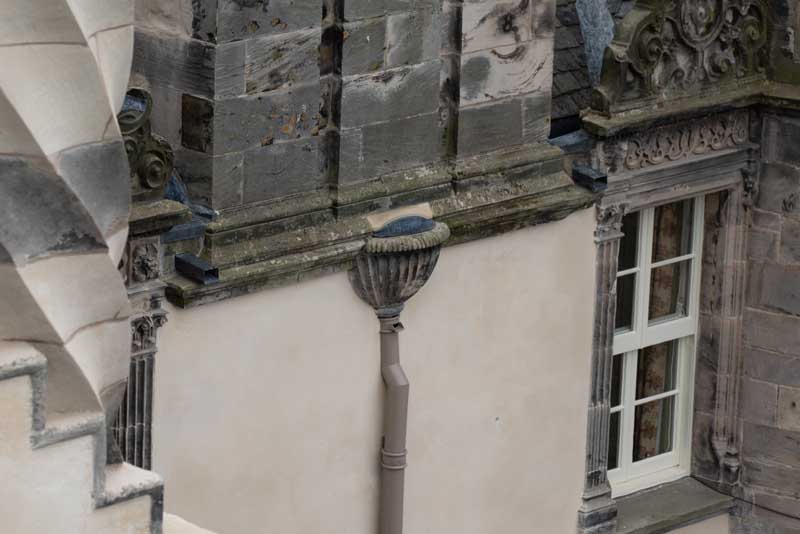 We're easily pleased at Winton. How much pleasure might one get from reinstating a rainwater hopper? Well – quite a lot actually. Given that it was four hundred years old (almost exactly) and above the entrance where there were the king's and owners' coats of arms are displayed, this was not a hopper from Wickes. The leadwork would likely have been original and the stonework had had an identity crisis for perhaps two centuries due to blockages. Enter the dream team of master lead-workers and the crafted result makes a rainstorm almost exciting (ref easily pleased!).
The builders have entered 'The Construction Awards for Excellence' and rightly so! They are designed 'to recognise those individuals and companies that set the gold standard in the construction sector'. They found often that modern-day construction gadgets were not a match for age-old techniques.
I hope my architect colleague, Niall Braidwood at Ogilvy Chalmers, will follow with a similar application for his part in demonstrating top-notch conservation in action.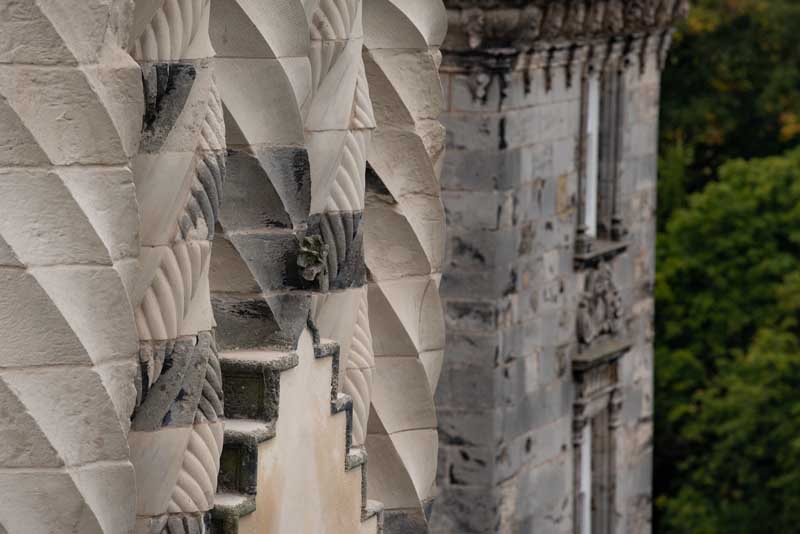 Winton would have been one of the most impressive buildings at the start of the Scottish Renaissance. It's now back as something to shout about. Crumbling stone is replaced with new – befitting the Earl of Winton who commissioned the original work.
So circumstantial Covid-induced misfortune has had its upside leaving Winton in a state ready for many hundreds of years to come and somewhere for Santa to do his extreme ironing!
I hope you can find a reason to witness the marvellous result of the master craftsmen in 2022. In the meantime, we wish you a Happy Christmas!
Photo Captions and Credits
Photos show Winton Castle's restored 13-foot high, carved, twisted chimneys and walls as good as new with more than 70 tonnes of lime render (no misprint!).
Winton is very grateful to Allan Dundas and Grant Bulloch Photography for their excellent photos.