We're very grateful to Laura for sharing this lovely blog about her family's winter weekend at Winton Cottage in East Lothian near Edinburgh.
Mid-January. Far enough after New Year to have lost the festive buzz, but not close enough to the end of the month for spring optimism to be in sight. We all needed cheering up!
We booked a weekend at Winton Cottage for a short family retreat – a chance to get away and relax. It was Friday evening, a long week at work, it was cold and dark. We entered the estate and followed the clear instructions provided by the team. The road curved round, up and down, and we found our weekend destination.
Husband had headed there a little earlier, to turn on the lights and – to our delight – light the fire in the sitting room. What a wonderful welcome. Glass of fizz in hand we explored the cottage. Cottage almost doesn't seem the right word, as it's vast and spacious, but still welcoming and warm.
The kids ran around, checking out all the rooms as fast as possible – they declared 'Winton' their room, with twin beds and fluffy rugs. We took the room next door, with a handy en-suite, while Granny opted for a room up the alternative set of stairs. Time for tea.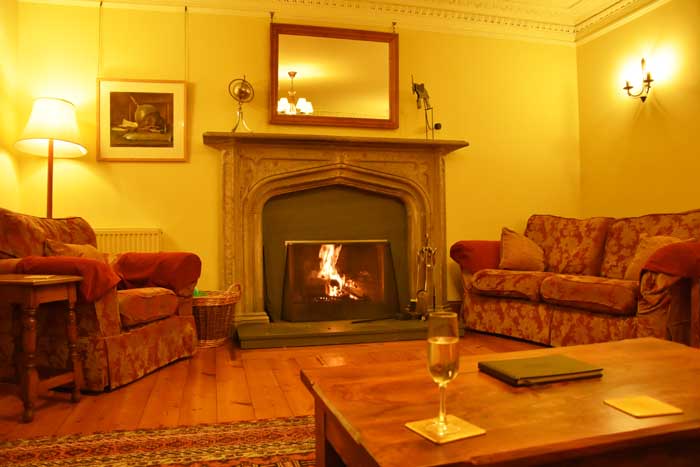 Everyone was tired so we leafed through the handy list of take-away leaflets and opted for a local Chinese. The food arrived with ease and still piping hot. We set the table in the spacious dining room, which seats up to 12. After tea, the kids headed into the games room, which is decorated with a star ceiling, for games of pool, while Granny headed back to the sitting room to enjoy the roaring fire and a spot of reading.
The next day, we all awoke from a fantastic night's sleep. Despite the age of the building, it wasn't cold or drafty. There was a gorgeous pink sunrise so I had to dash out to get some snaps. We enjoyed breakfast back at the dining table, the kids wolfing theirs down as quickly as possible so they could get back to more games of pool and DVDs.
Granny doesn't know East Lothian well, so we headed out for a drive, taking in the coastal villages of Aberlady, Gullane and North Berwick, heading out to see the Bass Rock and Tantallon Castle.
Back at the house, late afternoon, we were able to appreciate the stunning estate grounds and spacious garden for the cottage, even spotting some sheep on our return! There were some games of tig and running around the trees before heading in doors for dinner. The kitchen is fully equipped and we had all the utensils to make our family meal. After, granny headed up for a long soak in the bath while the rest of us enjoyed Saturday night TV in the games room. A handy beer fridge kept husband happy.
The next morning, we were sad to open the bedroom curtains knowing we would have to say goodbye to the lovely views. I sat at one of the window seats with a book and a fresh coffee before packing up and heading home.
There are so many options that Winton Cottage could cater for; we are considering a booking for Christmas, with the great kitchen and dining area, its ideal for a family celebration. Sleeping up to 12, it would be the perfect location for a hen or stag weekend, and it's a fantastic spot for exploring East Lothian. Charming, spacious, with excellent facilities, I could not recommend Winton Cottage more.
My visit to Winton Cottage
We're also grateful to Laura's daughter for her beautiful blog about her weekend at Winton Cottage. 
Me and my little brother went to stay at the cottage at Winton, with my mum, dad and Granny. We went on Friday evening after school – it was cold, dark and exciting to drive through the estate at night! When I first saw the house even though it was really dark it still looked really pretty and all the lights were already on because my dad was there before us.
When I got in the house it gave me a lovely cosy vibe and made me feel happy to have some time away from having hard work at school. My little brother and I went exploring straight away.
I personally loved the games room because it had a huge tv but it also had a really nice pool table and it was cool to have a few games with my family while we were there.
There are five bedrooms and each one is very homey and it reminded me of the Narnia movies. Downstairs there is a lovely sitting room that is really cosy and is a good space to read a big book. My mum and granny liked sitting in there and chatting with the fire on.
The kitchen was really massive and had an open entrance to the dining table, which was also really big and in the corners of the room is speakers so that you can listen to music while you are eating breakfast, lunch or dinner.
There are two different staircases which go up to different bedrooms and there are lots of bathrooms. You could play hide and seek for ages!
There are also really lovely views of the gardens. The garden was also big, with lots of space for running around. It had lots of nature which I loved and it would be a great space to have a BBQ or party in the summer.
It was a brilliant house and I loved staying there. I would really like to stay there again.