Thanks to Angela Dineen from the Scotch Whisky Experience for contributing to this case study.
"We were looking for a unique events venue close to the city centre with a wide range of activities," says Angela Dineen. "A couple of our team had been to Winton Castle before and we had heard great things about the facilities so choosing Winton was easy in the end.
"This was a team building event for our heads of department. The idea for the day was to get some time away from the business to focus on the strategic direction of the company, interspersed with some fun activities for the team."
Raving about the eagles
"The team were all really impressed by the facilities and loved the tour of the castle. The activities were really well received; Winton's falconer was so passionate and knowledgeable, and everyone was raving about the session.
"As an 'ornithophobe'," says Angela, "I was the least likely of the team to enjoy meeting the eagles but the team were brilliant and I came away feeling that I had certainly faced my fear, and, dare I say it, enjoyed the experience!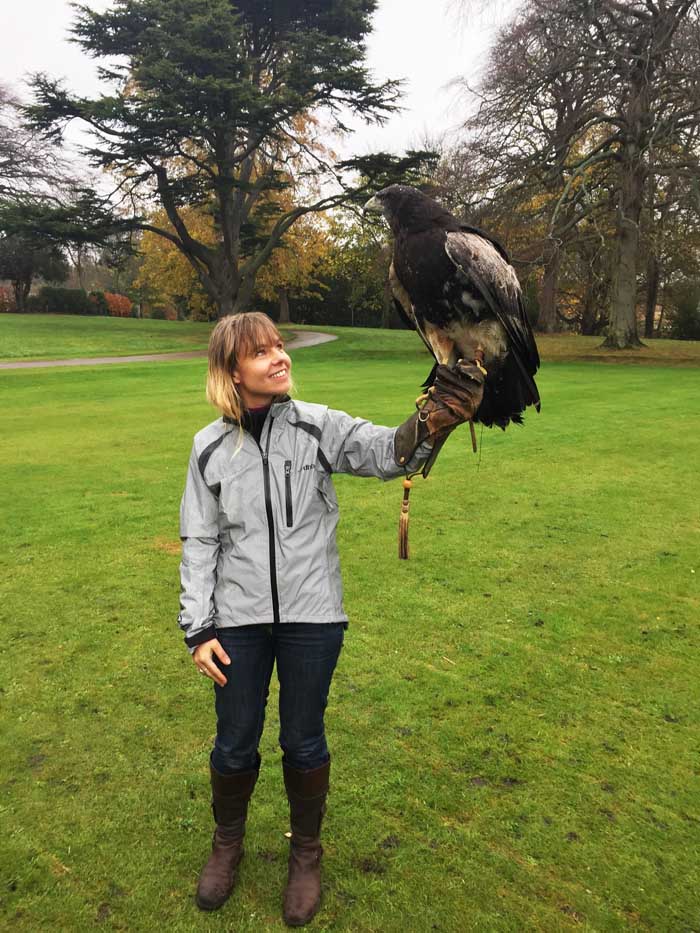 "The archery in the afternoon was also great fun – the weather certainly didn't dampen our spirits and it brought out the competitive edge in some of the team."
Chilling in the cosy castle
"We were at Winton on a rather miserable day in November but the castle was so warm and welcoming that it made no difference.
"I think our team were all wowed by the grand, historic surroundings and the Winton team could not do enough to make us feel at home.
"There was something really cosy about the castle that everyone really enjoyed."
Eating too much cake
"Everything about the day was so well organised. Lunch was lovely, but perhaps a more dainty selection of cakes would have been more suited to the afternoon coffee break!" suggests Angela.
"We would have no hesitation in recommending Winton to others for a similar experience."
Photo Captions
Group photo (l to r): Susan Morrison, Lenka Whyles, Dave Wilson, Wendy Neave, Ross Morris and Tony Dick at Winton Castle
Lady with dark jacket and hood: Angela Dineen
Lady with grey jacket and eagle: Julie Trevisan-Hunter