The Ibis Hotels team from Edinburgh chose Winton Castle in East Lothian for their late Christmas party for ten of their managers in January. After a little rivalry shooting clays with Winton's clay pigeon expert, Billy Gordon who is 24 times Scottish clay shooting champion, and a treasure hunt inside the castle, the visitors had a hearty Christmas lunch in the relaxed grandeur of the Cabinet Room.
The Ibis team from the Royal Mile and South Bridge hotels in Edinburgh, explained why they chose Winton Castle as their Christmas party venue:
"We've always received amazing feedbacks from colleagues and clients that used Winton for any type of event, and we've worked with Julie Britee in the past. So, when we were thinking of what we could do for our Christmas party, the team immediately thought of Winton Castle as its location is convenient (only 35 minutes from Edinburgh city centre), the range of activities is extensive and the castle is for private use.
"Also, let's not forget the 'wow' factor you have when you first enter the castle!"
What was the feedback on the activities and hospitality?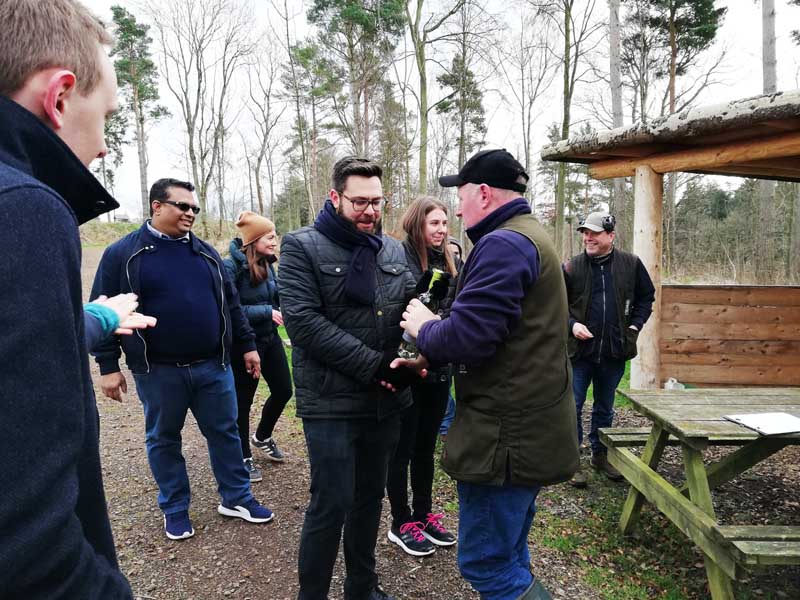 "Our colleagues' feedback was only positive. They all enjoyed their activities. We all had a lovely time at Winton and had lots of fun shooting clays and running around the castle on the treasure hunt!
"Winton staff's welcome and hospitality were excellent. The casserole was delicious and the whole meal was really lovely (please share my thanks with the chef) and thank you again for the complementary wine; it was definitely needed after being out all morning!
"It was a 100% win for everyone! The whole experience was great, the castle is beautiful and the activities fantastic fun. But, if we had to choose one particular point, it would be the staff. They really made us feel welcome and 'at home' which ensured our day was so good!
"The venue is splendid and your staff really welcoming. We couldn't have hoped for a better Christmas day out!"
The Ibis team added: "We will definitely recommend your venue should we have guests looking for team building or group activities, and don't hesitate to pass on our information should you have anyone interested in staying in a hotel in the centre of Edinburgh."
You can see more on Winton's corporate events and wide range of activities on our website.