The software company brought its fully-remote team together in our Scottish castle to have fun and foster relationships.
Pina Vida, a software development company, has chosen Winton Castle outside Edinburgh for their Christmas parties for the last two years. The company grew with a lot of fully-remote staff over the last few years and wanted to have an event that would help foster relationships and bring their team together for a memorable event that would be entertaining.
Each Christmas party has included some of the varied team building activities offered at Winton, from clay shooting, 4×4 driving, and miniature hover-crafting, to falconry and whisky and champagne tasting.
Pina Vida specialises in bespoke software development primarily targeted at complex business systems with a strong presence in lab management software within the diamond industry. People are the core of their business and they believe that project successes are because of team makeup and inter-personal relationships as much as technical skills.
Guy Powell, CEO of Pina Vida, says:
"We initially chose Winton for our event in 2021 as we wanted to do something special for the team after a tough couple of years of fully remote working. We wanted to have a Christmas do that would be memorable, fun and different – as well as giving the team the chance to build relationships that wouldn't happen just over a meal out somewhere.
"When looking at activity providers we found Winton and they were able to put on a wide range of entertaining activities, cater to the needs of our team, and arrange everything for us remotely.
"We've used Winton twice now – both for Christmas events. We wanted the team to have a chance of some team building as well as let their hair down at the end of a long year. Providing something fun to do (beyond just eating/drinking) gives the team a chance to build relationships that carry over into the workplace and leave everyone feeling happier at the end of the year.
"On our first year we had clay pigeon shooting, 4×4 driving and whisky tasting. This year we chose falconry, miniature hover-crafts and champagne tasting."
What was the feedback from your team?
"The feedback has been exceptional all-round. Everyone has commented on how much they enjoyed the activities and how helpful the instructors were," says Guy Powell.
"In all cases everyone came in with pretty much zero skills or knowledge and the instructors helped people learn, or, in the case of tastings and falconry, shared a huge amount of information – everyone came away surprised at how much they'd learnt and how much they'd enjoyed themselves at the same time.
"One of our members of staff revealed immediately before the event that they actually had a fear of birds. The lady taking the session was supportive and caring and gave our team member the space she needed. In the course of a couple of hours she went from fear to having a bird sitting on her arm!
"We've found all the instructors great fun, engaging and knowledgeable whatever the activity that we've done.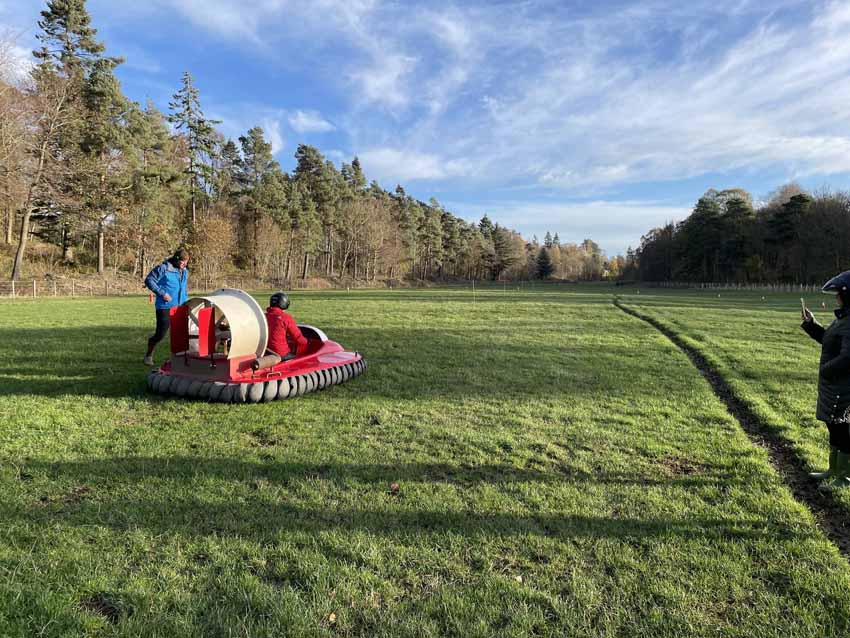 "From a hospitality perspective every member of the team has commented to me after both events how much they enjoyed them and how they found all Winton staff to be helpful and attentive. Everyone was very happy with the food and drink provided.
"We stayed for 24 hours in both cases so had afternoon tea with sandwiches and cakes, a full evening dinner and a cooked breakfast the following morning.
"The menus were discussed in advance and the chef was happy to cater to specific dietary needs we had within our team. This was particularly good as the special dietary requirements were even carried over this year into light snacks and biscuits in the afternoon which meant nobody ever felt left out. The vegan tiffin with coffee was a most welcome surprise!"
Were there any funny moments you'd like to share?
"Almost driving one of my junior staff off the side of a muddy hill into a ravine on a 4×4 was certainly memorable for both of us. How calm the instructor stayed was a testament to his nerves as he gently pointing out where my wheels were heading!"
How would you describe Winton's ambience?
"I'd describe Winton's ambience as 'intimate, calm, peaceful and personal'.
"I particular like that Winton provides something different to many events and gives everyone something they enjoy looking forward to and talking about. My daughter is now asking why she didn't get to go to the castle as well!
"How often do you get to stay in a castle for your Christmas party?"
You can find out more about Pina Vida and Winton Castle's company away days and team reunions on their websites.
Photo Captions & Credits
The photos of Pina Vida's Christmas party at Winton Castle show: Christmas dinner in front of the fire in the Octagon Hall; whisky tasting in the vaulted cellar; miniature hovercraft; and Guy Powell meeting a bird of prey during falconry.
Thanks to Pina Vida for sharing their excellent photos.