Company Away Day & Incentive Event with Activities
Winton Castle's client, Brook Green UK, has been delivering creative business incentive events since 1987, and now has offices in London and Edinburgh. Brook Green chose Winton for their client, a major Brazilian Insurance Company.
"Initially, we chose a gala dinner for our Brazilian client," says Viktoria Ulle from Brook Green UK who booked the company away day. "However, when our client came for a tour of Winton Castle, they decided to go ahead with some activities and lunch instead.
"Julie Britee, the events manager at Winton, did a very good job at making the most of the clients' budget for the event in the castle and grounds, often not an easy thing to do! The booking process was easy, and the speedy replies from Winton were very much appreciated."
"It was an incentive trip for a major insurance company in Brazil," continues Viktoria Ulle. "The objective was to give the guests from Brazil a little taste of Scotland with some exclusive aspects thrown in. Their day at Winton involved a clay shoot, gin tasting and a three-course lunch.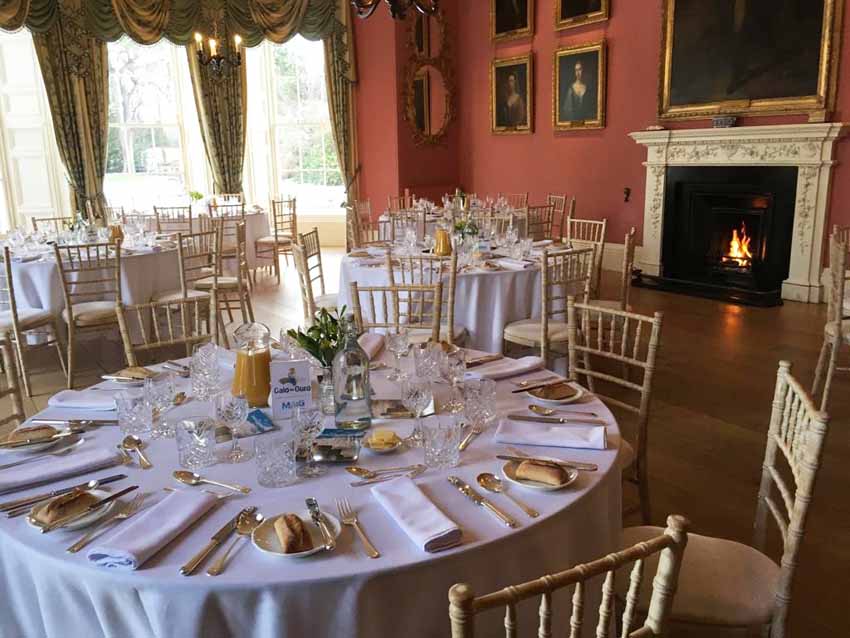 "The Brazilian client was very particular that two things were important: the clay pigeon shooting experience and a gin masterclass.
"The guests absolutely loved their event and were super impressed. A special Winton cocktail was even mixed at the end of the gin masterclass. The staff were very helpful and professional – Winton Castle delivered in all areas."
Were there any entertaining moments?
"Yes, presenting the CEO's birthday gift – we'd had his face superimposed onto a copy of an old painting of a king and framed in advance.
"After his birthday cake had been served, the castle staff made a speech about presenting the CEO with one of their 'finest pieces of art' as a thank you for visiting the castle. The group was then told that the painting was one of the most respected kings that has ever set foot on Scottish soil. The portrait was then revealed, and to everyone's surprise, they saw that the noble king was their CEO!"
What do you particularly like about Winton?
"Every aspect of the event ran as smoothly as possible. The group was on an extremely tight schedule so having everything run like clockwork was definitely a major achievement. The group was on time for all the activities and enjoyed every moment at the castle. So, a massive thank you to everyone involved!"
After leaving Winton, the Brazilian visitors had to shoot off to nearby Glenkinchie Distillery, before catching a train to London from Waverley Station in Edinburgh.
You can see more about corporate events and company away days on Winton's website.