A party of thirty PhD students and staff from Edinburgh Neuroscience at the University of Edinburgh visited Winton Castle for their annual team building, away day for a third time. Their talks in the morning were followed by a barbecue lunch, then laser tag in Winton's Walled Garden.
"We chose Winton Castle because we had been before and had a wonderful experience," says Dr Marja Main at Edinburgh Neuroscience, who organised the event. "Winton is a perfect mix of being very accessible from Edinburgh while feeling tranquil and like you've stepped away from the hustle and bustle.
"Our guests were University of Edinburgh students and staff, specifically those associated with the PhD programme in Translational Neuroscience. This year, we were also joined by three guests from our funder, the Wellcome Trust.
"We had academic talks and discussion sessions in the morning, followed by a BBQ lunch and team building in the afternoon. Having enjoyed a Mini Highland Games twice previously, we opted for laser tag this time, which was a huge hit!"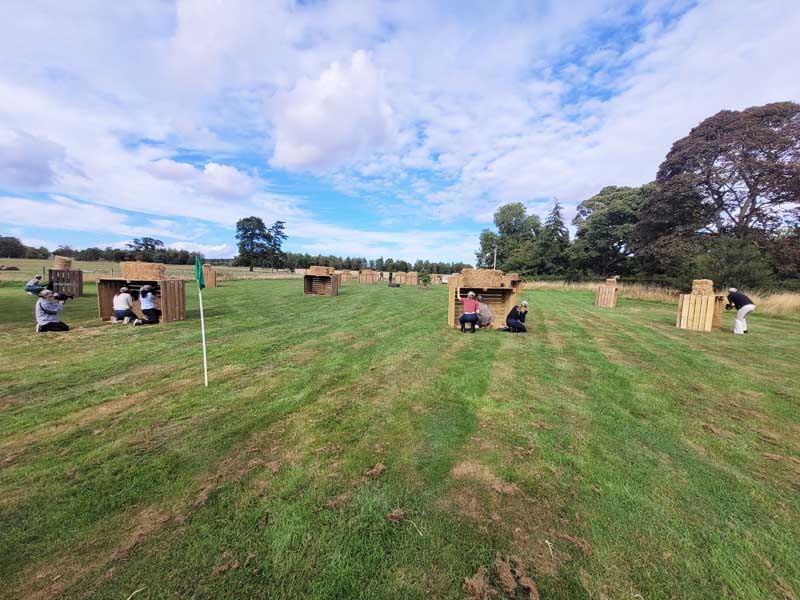 Winton Laser Tag is like a real-life computer game with live sounds and game scenarios, but unlike paintball, there's no messy or painful paint bullets which makes it completely safe and popular, and participants get completely immersed in the experience.
Dr Marja Main continues: "Everyone got extremely competitive during the laser tag and we saw daredevil sprinting and wholehearted cheerleading from colleagues we didn't necessarily expect it from!
"Hospitality-wise, we had tea and coffee on arrival and during our morning break, and a glorious barbecue lunch served on the sunny Peacock balcony. There was a really colourful and inviting selection of salads and sides to go with our gourmet burgers."
What was the feedback from your guests about the barbecue and laser tag?
"Our students and staff loved the whole day, with gushing feedback about the stunning venue and how much fun they'd had. This was also the first day on our PhD programme for six new students; they said that it was the best possible start to their time on the programme and helped them feel at ease with other students and academic programme directors.
"Several students and guests actually took the time to email me afterwards to say thank you for the day, and one said: 'We found it very helpful, impressive and enjoyable – so thank you for making it happen.'"
What makes Winton stand out as an events venue?
"Winton Castle has impressive old-world grandeur while feeling very cosy and welcoming. A tough balance to strike but Winton nails it!
"We appreciated having the whole castle and grounds to ourselves, and very attentive and flexible service from Julie and her team all day and during preparations.
"Genuinely wish I'd known about this venue when planning my wedding!"
You can find out more about corporate away days and team building events on Winton Castle's website.
Photo Credits
Thanks to Edinburgh Neuroscience for sharing their excellent photos.