Nearly five hundred sports men, women and children took part in the Winton Trail Run in East Lothian yesterday, competing in cool April sunshine only disturbed briefly by a rogue hail storm.
Formerly the Pencaitland Fun Run, the Winton Trail Run and cycle has raised funds to support the educational works of registered charities the Pencaitland Primary School PTA and Pencaitland Playgroup. Charlotte Taylor organised the first ever race back in 2010 and has worked really hard every year to make it bigger and better.
Participants were warmed up at the start by Pryde Zumba and awarded biscuit medals at the end! Finishers were greeted by bacon rolls and home baking at the Winton Potting Shed in the walled garden at Winton House.  
Runners times are posted here:
10k results (168 entrants – pictured on right):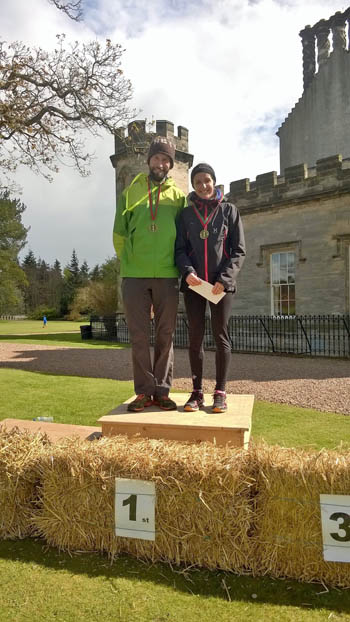 1st Male Donald Naylor (34mins 20sec)
1st Female Rachel Haines (37mins 52 sec)
Winners of the 5k – Juniors (52 entrants):
1st place – Angus Wright
2nd Cameron Bullen
3rd Angus Chandler
Winners of 5k – Adults:
1st Male Mark Seymour
1st Female Ellie Charles
3.5k results (190 entrants):
1st place – Jonathan Mainds
2nd Jack Renton
3rd Jamie Burns
Winners of bike ride (64 entrants):
1st Cole Dean
2nd Jamie Gallager
3rd Harvey Taylor
"Well done everyone who took part! We'd like to thank the organizers as well as the many marshals and helpers from the school, play group and local community," said Janis Ward, one of the event organisers. "The runners and cyclists really enjoyed the off-road course which followed some of the Winton Walks network.
"We're also very grateful to all the generous sponsors: Winton Estate, Stephanie Pryde Zumba, Joe Forte sports shop in Haddington, Gibson's of Haddington, Winton Arms, Pencaitland, Buba Yoga, Musselburgh, Haddington Podiatry, Tom Harley Sports Massage, St Luca in Musselburgh.
"We plan to make this an annual event so watch out for the date of next year's Winton Trail Run."