It was a far cry from their planned Californian spring wedding when Madeleine arrived at Winton Castle to wed Jonathan on a rainy day in October 2020. However, despite the COVID pandemic and all the unexpected changes resulting from it, everything eventually worked out perfectly for the wonderful couple.
"Our original wedding was meant to happen in California, during the spring – it would have been quite a large wedding too!" says Madeleine. "Our wedding day was the rainiest day on record in the UK apparently, but it made everything feel so much more cozy and dramatic.
"I am so grateful that things turned out the way they did, though – getting married at Winton meant Jonathan and I could be close to where we first met. Although everything was very different than the original vision, it somehow felt more real and more true to our personalities."
Sign up for our Virtual Wedding Open Day – Sat 13 Feb 2021 – Please Pre-Book!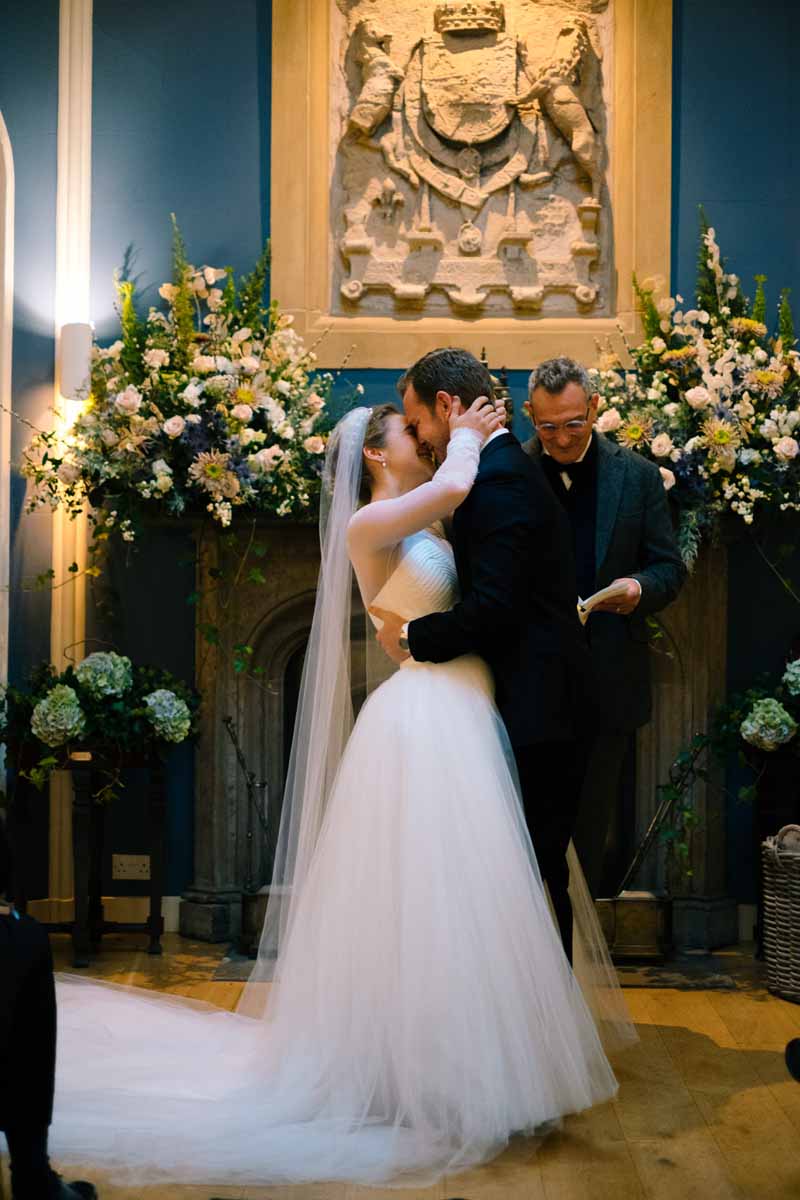 Although worldwide restrictions affected the size of wedding that they could hold, after years of anticipation for the big day, Maddie and Jonathan did not want to have to wait any longer to be Mr & Mrs. They chose to carry on with a smaller and more personal celebration and decided that an intimate Scottish wedding would make their ideal day.
However, there were still a few COVID related hiccups on the road before they reached Winton Castle's open doors.
Maddie continues: "After the years of our distant relationship, the long engagement, and the first wedding postponement, my fiancé and I were aching to step into that new chapter of our life together. It was time.
"We knew that our wedding did not need a crowd, but we absolutely wanted our families and closest friends to be a part of the celebration. So, it was a tough balance to strike – but ultimately, we knew that the restrictions, while sad, would allow us to have a safe, intimate, and sacred day.
"And they did! The conversations were deep, and it seemed like the moments were undistracted and deeply experienced by every guest.
"Originally, we planned to get married at a small local church, but when those plans fell through due to COVID, a dear family friend recommended the castle as our wedding venue. We had never heard of Winton. Our friends assured us that the location was not only beautiful, but that the staff would be friendly, safe and accommodating – they were certainly understating!"
With the wedding taking place on an autumnal Saturday in October, the wedding team was delighted to welcome Maddie and Jonathan for their cosy rehearsal dinner on the Friday evening in Winton's refurbished Potting Shed events venue by the Walled Garden, before welcoming their closest family and friends for the wedding celebration the following day.
"The Potting Shed was charming! Decorated as it was with candles and greenery, it struck the most perfect light-hearted and warm tone for our rehearsal dinner."
The wedding day itself was a beautiful, personal and intimate celebration and a pleasure for the team at Winton to be part of and witness. After all the changes and hurdles presented by the COVID pandemic, Maddie and Jonathan eventually had the wedding of their dreams in an unexpected Scottish castle that they had never heard of, and the wedding team were delighted that they had found their castle.
"I cannot praise Winton enough. The food and drink was unforgettable, but more than that, I commend the staff for their kindness, generosity, and willingness to help us celebrate – especially during these uncertain times. It is hard for venues now to manage the COVID guidelines while also creating a generous and joyful environment. Winton balanced both perfectly.
"My Dad has said multiple times that he finds it almost impossible to describe the wedding to our absent friends. It was truly that magical – like heaven pulled a curtain between us and the rest of the world, to give us some privacy just for the day. The most memorable moment for me was the dinner; because it was such a small group, everyone was able to give a speech or say a few authentic words… everyone had a voice, and that meant the world to me.
"On our wedding day we felt so welcome! I think it is truly unique to enter a place with such beauty, history, and reputation as Winton, and be made to feel so comfortable and invited."
Everyone at Winton wishes Maddie and Jonathan an amazing life together and really hopes to be able to welcome them back, under less restrictions, in the future.
Sign up for our Virtual Wedding Open Day – Sat 13 Feb 2021 – Please Pre-Book!
We'd be delighted to welcome you for a personal virtual tour round our romantic Castle on Saturday the 13th of February 2021 between 10am and 4pm. See the Castle beautifully set, as if for a wedding.
Please pre-book your appointment.
You can see more about hosting micro-weddings at Winton Castle on our website.
Many thanks to blaow photos for the excellent photographs.