FanDuel chose Winton House for their company day out and team building event to say 'thank you' to hard working staff from their Edinburgh and US offices.
Founded in Edinburgh, FanDuel is the world's largest and fastest growing daily fantasy sports platform, offering a multitude of one-day game options for NFL, NBA, MLB, NHL and college football and basketball.
"This was our annual UK company day out, so employees from our Edinburgh office attended, as well as several people from our Orlando and New York offices who were visiting the UK that week," says Gemma Price, FanDuel's Office Manager. "In total, there were 128 of us, all of whom took part in a Laser Tag 'Domination Game' as well as a Winton Highland Games.
"It was FanDuel's second visit to Winton House for a company event. We held our Christmas party there last December and thoroughly enjoyed a Murder Mystery evening, Christmas meal and disco.
"The house and grounds are stunning and the staff were very welcoming and attentive, so returning for a second visit was a no-brainer for us."
Winton's hospitality
"The food was delicious and catered for everyone's tastes – from the buffet-style nibbles at lunch – which featured a very popular Crispy Crème 'doughnut tree'! – to the hog roast and BBQ in the evening. Lucas Ice Cream's vintage Rolls-Royce also made an appearance!
"A few people attending were gluten and dairy intolerant, but this wasn't a problem and plenty of alternatives were provided. The staff were very always on-hand and no request was too much for them."
The activities and entertainment
Gemma Price from FanDuel continues: "Our company day out was an opportunity to have fun, enjoy some team-based activities and reward all employees for their hard work over the past year. The team has grown significantly in recent months so it was also an excellent opportunity for new recruits to get to know people and for everyone to gel as a unit.
"All of the activities staff, particularly the commentator, were very welcoming and entertaining and ensured everyone enjoyed themselves, as well as briefing us fully on game rules and how to use the equipment.
"We chose Laser Tag and Highland Games, which were lots of fun and provided a good opportunity to work together in a team environment outside the workplace.
"Laser Tag was lively and fast-paced. We split up into 8 teams of 15 each and played 'Domination' with two large scale pitched battles in the walled garden with the backdrop of Winton House – a great success!
"We formed 8 clans for the very varied Highland Games activities, from tossing the caber to racing with hay bales. The latter was a particular hit with our American colleagues, who fully got into the spirit of things by wearing mini kilts and tartan hats!
"The highlight was definitely the final event, the tug-o'-war, which raised plenty of cheers and chants from the side lines as teams fought it out to haul their opponents over the line.
"Later on, there was a disco by DJ Donny Hughes followed by a surprise fireworks display. A spectacular way to finish the day!"
The "setting and the staff" make Winton stand out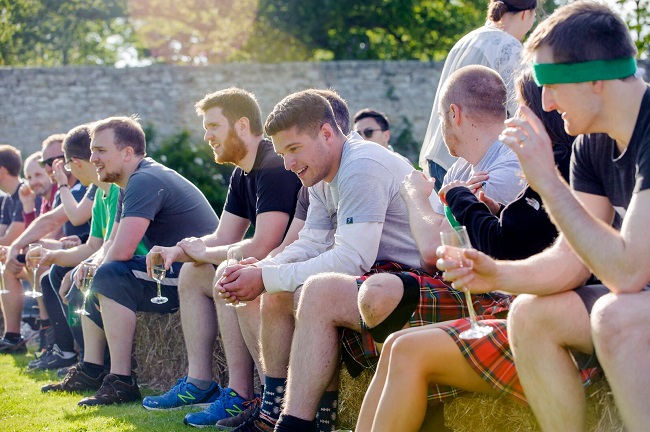 "Winton House is a charming old house with lots of classic features and the grounds are beautiful and spacious. We had the chance to see some of the gardens during the Highland Games activities and a couple of our staff took the opportunity to wander down to the loch in the early evening.
"The hospitality shown to us at Winton House was, once again, excellent and we wouldn't hesitate to book another event there.
"Paul Nixon, the deputy manager, was particularly helpful in suggesting activities and drawing up an itinerary, which suited our needs perfectly.
"The whole day was fantastic from start to finish, and every element was exactly what we were looking for – great food, fun activities, welcoming and accommodating staff and a beautiful setting."
For more Winton Activities…
Winton would like to thank Helen Patience for the photos.