When Meg and Scott decided on a destination wedding, there was only one choice – the Monteith's ancestral homeland of Scotland, and only one wedding venue – the magnificent Scottish Renaissance Castle that is Winton Castle.
119 friends and family travelled all the way from Atlanta in the US to join Meg and Scott for their summer wedding, and expectations were well and truly surpassed as they enjoyed Highland games in the walled garden, barbecues on the Peacock Balcony and a spectacular wedding day highlighted by dinner in a marquee on the croquet lawn, followed by dancing in the castle well into the wee hours.
This is their wedding story, kindly told by the bride, Mrs Meg Monteith.
"Our early wedding-planning conversations read like a script for realist vs idealist theatre…
"Realist: Most people get two shots at having all of their favourite people in the same room: their wedding day and their funeral. We only get to enjoy one of them. Let's go with the location that's most convenient for our friends and family.
"Idealist: A destination wedding would be a catalyst for all of our favourite people to plan a trip they wouldn't otherwise prioritize! Some will get their first passport! What better gift could be bestowed upon a young couple than their tribes converging in a place that will yield memories for all? The trip of a lifetime — for us, and for them!
"As we rounded the corner on lap one of the wedding-planning track, we were anything but decisive. A riverbank in Atlanta? A farm in the Mississippi Delta? A more unexpected destination … in Europe? We loved the adventure inherent in a destination wedding, but we had a major foe working against us: a true ginger, Scott wears a daily "sweater" of SPF 85 sunscreen. Even indoors. That said, there would be no beach.
"We also wanted a uniquely personal event, replete with family mementos, meaningful speeches and titbits that would say "your presence is your present" in a manner that didn't feel as canned as a Baby Boomer-driven meme or decor pillow from TJ Maxx.
"It took finding a Scottish venue that married all of our non-negotiables to finally pull the decision trigger.
"A late-night Google search led us to the website of a castle that boasted "intimacy on a grand scale." From there, what began as a fledgling idea to host a small family wedding in the Monteith's' ancestral homeland ballooned into a full-blown Scottish castle affair with Highland Games, falconry, bagpipes, a clay pigeon shoot, a scotch distillery tour and ceilidh.
"What we heard most about in the weeks that followed were the personal touches. From handwritten notes at each table setting to tables adorned with photos and keepsakes; we wanted to make our guests feel as special as they'd made us feel by travelling more than a collective million miles to be there. And the staff at Winton made it so."
Watch Meg & Scott's beautiful wedding video (with many thanks to Simon & Sylwia at Crofts & Kowalczyk for creating the video):
How Did You Plan Every Detail of Your Wedding from the US?
"I'm writing this as I sit next to my new husband on the plane ride home, following a picture-perfect wedding and honeymoon.
"In the week following our nuptials, my phone has been overrun with messages from friends and family who had the most wonderful things to say about Winton – and, more specifically, Winton staff. No words can adequately relay how strongly and positively you impacted our lives, but herein lies an attempt.
"Finding people who can outshine the beauty and splendour of the Winton property is not an easy task — and yet you've done just that.
"Many of our guests asked how Scott and I had the good fortune of finding Winton. Call it fate, call it the magic of Google keywords… Whatever it was that led us to your website back in January, I call it evidence that we have been greatly blessed.
"From my first email exchange with Rae, her kindness, affability, flexibility and attention to detail were all put on grand display. No idea was silly, no request too grand. If we had a half-baked idea (a flag, Sonos music, a "favourite berry" station for the Prosecco), she made it work — with notable respect to budget.
"Planning a wedding from 4,000 miles away is as daunting as it is exciting. Intuition told me we were in good hands, and the precision of that intuition was cast in a spotlight for the 48 hours surrounding our big day. No stone was left unturned, and your team anticipated even the most minute needs of guests young and old.
"Together, our families and friends travelled more than one million miles to get to Winton. A million! For months, I worried. Would they think it was worth it? Would it be worth the time, energy and resources it took to get there? From the minute we checked in to the castle, those fears disappeared."
How Did the Winton Events Team Ensure Your Guests Had a Memorable Scottish Experience?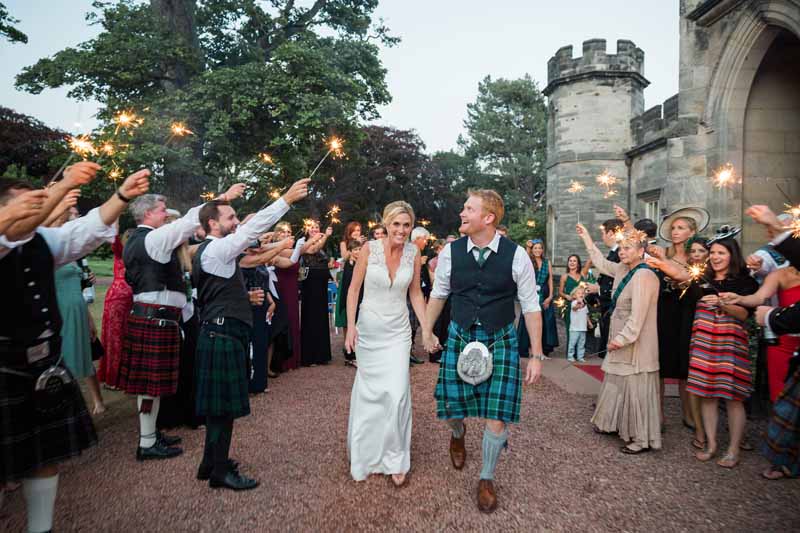 "Fay, with her kind voice and gentle take-charge approach, was nothing short of a wedding angel. She attended to the needs of our friends and family like a fairy tale character with a magic wand! From setting up evenings in the Library, replete with a warm fire, drams and Prosecco, to quickly arranging last-minute transport for dozens of guests to the Winton Arms after the Highland Games, she was unflappable. And always had a smile.
"As stories have trickled out from friends and family, we've learned that other staff members similarly went out of their way to arrange odds and ends for guests — including transportation services that fell far outside the scope of the wedding. Lexi, Toby the gardener… EVERYONE was incredible. [Meet the Winton Events Team…]
"Same goes for the vendors Rae recommended. That guidance proved invaluable, from hair/makeup to the band and the bus, to photography and every little detail in between.
"From misplaced sunglasses to T-shirts and handwritten cards, you stayed on top of all the details so we didn't have to. We never felt rushed to leave, even though another event was lined up just hours later.
"As a bonus, we had the distinct pleasure of chatting with Sir Francis several times during the course of events. He even carried our luggage out himself. Unbelievable!
"The clay shoot, the Highland Games, the wedding … the events you coordinated yielded memories that will stay with all 121 of us for a lifetime.
"Happy are those lucky enough to have experienced Winton. Blessed are those of us lucky enough to have shared it with our closest loved ones.
"I wish you and your team the very best. We look forward to keeping in touch and hope to return with a family of our own someday!
"All my best and with tremendous gratitude."
Mrs Meg Monteith
We are grateful to Rustic White and Meg & Scott for the beautiful photos.