Company Away Day & Team Building with Activities
The School of Engineering and Physical Sciences, Institute of Biological Chemistry, Biophysics and Bioengineering at Heriot-Watt University wanted to organize a team building event and chose Winton Castle. The bespoke event with segways, target archery, bushcraft, sketching and mini Highland games was based in Winton's colourful Walled Garden and its adjoining Potting Shed, next to the castle.
"I wanted to organise a 'fun away day' for our Institute with some money that I had raised," says Krystena Callaghan from the Institute of Institute Biological Chemistry, Biophysics and Bioengineering.

"I looked at the usual paint balling and archery places, Go Ape, team building days, and other options. But because we are a diverse Institute in terms of age, physical ability, interests, and nationality, I wasn't sure these that would be inclusive enough.

"I also wanted to make it a relaxing day, so people could have some morning snacks and lunch on site in a peaceful environment.

"After doing a Google search I came across Winton Castle which offered a wide range of activities, from active to more relaxed, so people could choose what suited them.
"Winton Castle also looked like it had amazing grounds that people could explore between activities or during lunch. I received instant, thorough replies to my initial enquiry and further questions down the line."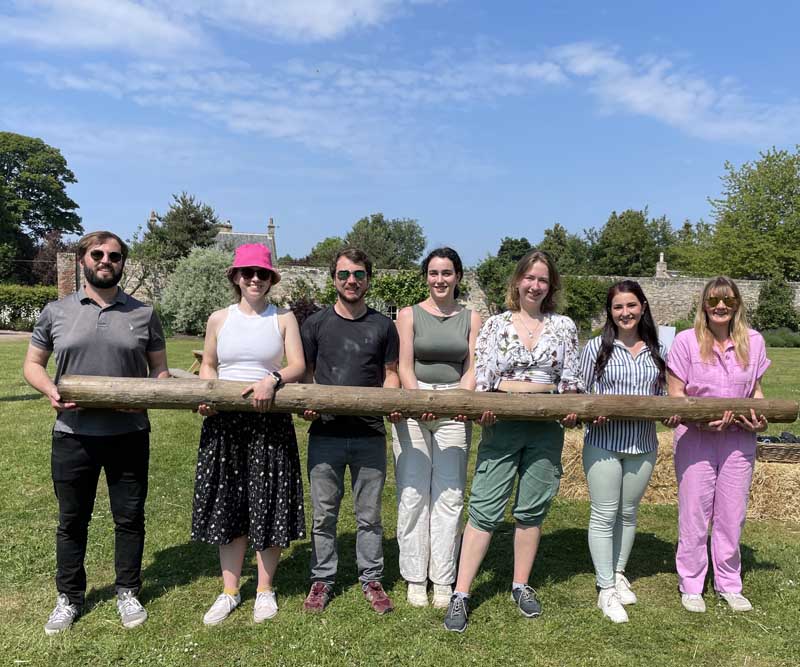 "The guests were scientists across many levels from PhD students, Technicians, Post Doctoral Scientists and Academics, from the Institute of Biological Chemistry, Biophysics and Bioengineering, at Heriot Watt University. Although we are part of one Institute, it is made up of many groups led by different academics and we are spread across numerous buildings at the University, so it was nice to bring everyone together in one place, to get the opportunity to interact with each other – we don't always get the chance to see everyone or even anyone."
What was the feedback from your guests about the barbecue and activities?
"Everyone thoroughly enjoyed the activities they did – we took part in one each and no one had any complaints about their choices. In fact, the people who did the art workshop enjoyed it so much, they've thought about setting up an art club back at work, where people could meet at lunch time and explore the grounds to draw/sketch. I think one or two people have already started up art again at home.
"One of the academics who did the bushcraft activity is emigrating to Australia and said he was going to look up some sort of bushcraft course or group he could join with his family over there."
Lunch was a traditional barbecue.
Krystena Callaghan continues: "I had planned dog and duck herding as a group activity in the afternoon, so we could all enjoy an activity together as a big group after lunch, but unfortunately due to an injured dog this had to be cancelled. But a Winton Highland Games replaced it.

"Although I hadn't picked the Highland Games initially, it went down an absolute treat – everyone loved it and had an amazing time.

"I don't think it could have gone any better to be honest. We had beautiful weather, so that helped, but the staff and surroundings created a really nice atmosphere."
What do you particularly like about Winton?
"Winton Castle is a beautiful place; it has a very relaxing atmosphere especially up at the walled gardens. We were there when the Wisteria was flowering, and it felt like a scene from the secret garden."
You can find out more about Winton Castle's popular team building away and away days on their website and more about the Institute of Engineering and Physical Sciences at Heriot Watt University.
Many thanks to Laura Porcza at the School of Engineering and Physical Sciences at Heriot Watt University for allowing us to share her excellent photos!